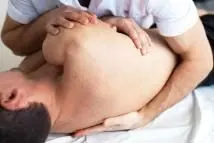 Chiropractic Care in Los Gatos, CA
Chase Chiropractic offers the residents of Los Gatos, CA, general chiropractic services. If you're suffering from acute or chronic pain, it can negatively impact your quality of life. Instead of tolerating your pain and missing out on the things you enjoy, turn to our caring staff to discover how chiropractic care can benefit you by helping you to reduce your discomfort.
At Chase Chiropractic, our doctors don't use a cookie-cutter approach to patient care. Instead, we'll utilize an array of treatments to target your neuromusculoskeletal issues in a therapy plan that's designed for you. We offer treatments that can benefit individuals who suffer from:
Neck pain and stiffness
Migraines and other forms of headache
Back and shoulder pain
Body and muscle aches
For Los Gatos, CA, general chiropractic services delivered by professionals who believe patients are the first priority, count on Chase Chiropractic. If you're ready to see someone who may be able to alleviate your pain, call us today to schedule an appointment.